(I apologise in advance – a much more wordy and pic heavy post than usual.)
I've said it before, and I'll say it again – I'm not in this for terrain building. I'm not that good at it. I do enjoy it but I do get bored and sidetracked easily. And I start resenting it when I realised it has taken me down a rabbit hole and eaten up time I'd rather be using damaging my huge lead pile.
But I do agree with the premise that GOOD TERRAIN IS IMPORTANT. "We spend hours painting detailed miniatures for people to look at, then why not also the terrain the are played on?" More importantly, your little guys need somewhere nice to live…
Thinking aside (who needs that?) I decided I wanted to make some sci fi terrain for some interior skirmish actions. I've plenty stuff for sci fi habitations, colony bases, post-apoc shanty towns and the type of stuff you'd use for Infinity (cargo containers galore). Even enough for a small city using, amongst other things, Dropship Commander card terrain which works very well with 15mm btw.
As to interiors; I'd toyed with the idea of using Space Hulk floor tiles for bug-hunt/spaceship based environments.
I've even bough in to the (fairly) recent stuff from Battle Systems, both sci fi and fantasy.
It is good stuff and with a little effort I've every intention of using it (especially now that I'm back on the 28mm bandwagon). It is also, in part, useable with 15mm. Those bits that are not I'm sure I can tweak to work. Another project.
So, long (and boring) story short, I went looking online as one does. I've been on Spacejackers excellent site before and I'm sure it was a hazy memory of seeing this project before that drew me there again. I think the phrase 'spot on' sprung to mind.
It had all the elements I was looking for. Modular, yet solid (Battle Systems is quite fiddly); pretty yet simple to make. I duly went about ripping the idea off.
I'd recently bought a bulk load of 5mm foamcore sheets so that was going to be the medium for the build. I was also going to tweak it so that I could stack the tiles (this has implications later…). I also was not going to paint the hole thing (at least to a standard I'd be happy with) so decided I'd resort to my wall-paper approach, i.e. skin the floors and walls with printed textures drawn from various paper terrain sets and scans of other bits I have.
Part of the reason for that approach was that I did not want the over all look 'too unified'. I wanted something a bit more organic and less Death Star/Space Port. I think I achieved that BUT on reflection I think the whole result together has become too busy on the eye and draws away from 'action'. Time will tell on that.
So that was the aim and that aim was achieved to my satisfaction. To complete all I needed to do was make or acquire bits and bobs to populate the rooms (other than miniatures of course – I've a few of those).

HOWEVER – this is where the 'spiralling out of control' part of this post's title comes in. Take the following as a word of warning or as a source of inspiration – all depends upon your sensibilities.
First mistake I made was placing the tiles on top of the board I'd printed out for a previous 'scape' which I mentioned a while back.
Here are a few of the finished tiles arranged in the manner they were intended. See the potential? And see the problem?
Now they look like they could be the interiors of buildings along the side of the street.
Second mistake was to stack them (although that had been an intention for storage purposes). Oh look, they look like multi-floor buildings now with accessible interiors… (see where this is going?)
Third mistake – All good sci fi terrain/buildings have walk ways connecting them. Let's add a few with a couple of handy makeshift gantries.


At this point the 'multifunctional' part of me took over and I decided to make roofs for the tiles to a.) allow them to be used as stand alone buildings with removable roofs and b.) make them properly stackable (because of the wall configurations not all were naturally balanced/stable without the roof due to insets and corridor sections). Now the design principle Spacejacker followed was to have two walled sides and two open sides on each tile. That is where I started and this is perfectly fine for using the tiles only as open tiles. However without additional support it wouldn't be possible to carry a roof.
As a result I added 'minimal' supports in various positions that would allow for a roof to sit on top and allow for stacking but still have an open enough floorplan to be used with the original intent. Personally I think it adds to the 'flat tile' use as well perhaps at the expense of making everything a bit more cluttered.
There was also the introduction of a new issue which was access to floors above ground level. Internal stairs/access could be assumed but some of the access were literally doors and not just open areas. That meant I needed some external access to these areas = more stairs or ladders.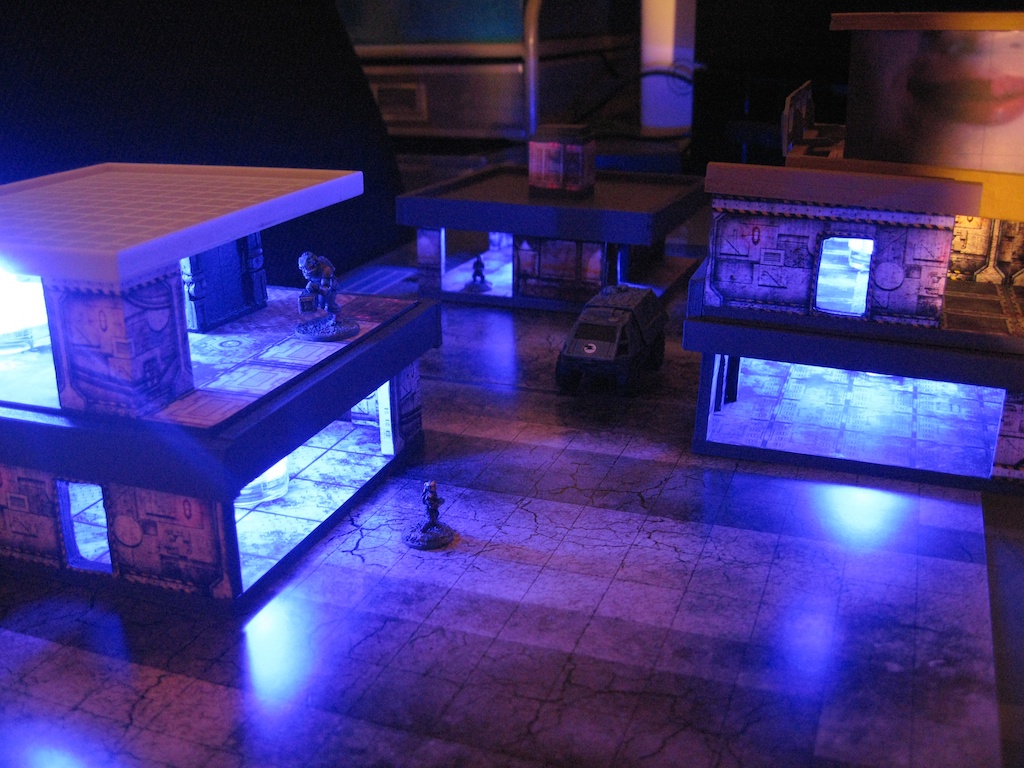 This was amplified (I should say 'illuminated') by the arrival of some rather interesting items I'd picked up on a new Kickstarter. I'd already bought a few items from Thomas Farnell of Wargame-Model-Mods so it was with interest that I (modestly) jumped in for some 'lighting terrain'.  Add some bits of the afore mentioned Battle Systems terrain, some card terrain and a few 'Block' signs with a handful of miniatures…
Clearly still too dark. Something was missing – now that a dozen additional electronic 'tea lights' have arrived after the Christmas rush I can now light up some of the interiors as well…
Due to poor photography skills you'll have to believe me that this is actually light enough to play with the main lights off. Aside from the cluttered and rough finishes I think it 'captures' that Blade Runner/Mega City One vibe quite well.
A few photos with the lights on…
Stacking time. Whilst this works and is pretty stable, unless everything is bolted down, it is totally impractical for games. (Note to self, consider magnetised floors next time.)
But it does disassemble in seconds and can be quickly deployed as a little town…
A few little quickly pulled together 'possible' uses. All I need now is either a good source of room furniture/clutter or more finger bending paper model making…
Again, I apologise for the extreme number of photos but I got carried away on this occasion.
UPDATE
I recently found that the great Matakishi also stumbled upon Spacejacker's concept and used that to create his own variant which is also (unsurprisingly) amazing. If you've not visited
Matakishi's Tea House then it is a MUST DESTINATION for any gaming related stuff.